Advocacy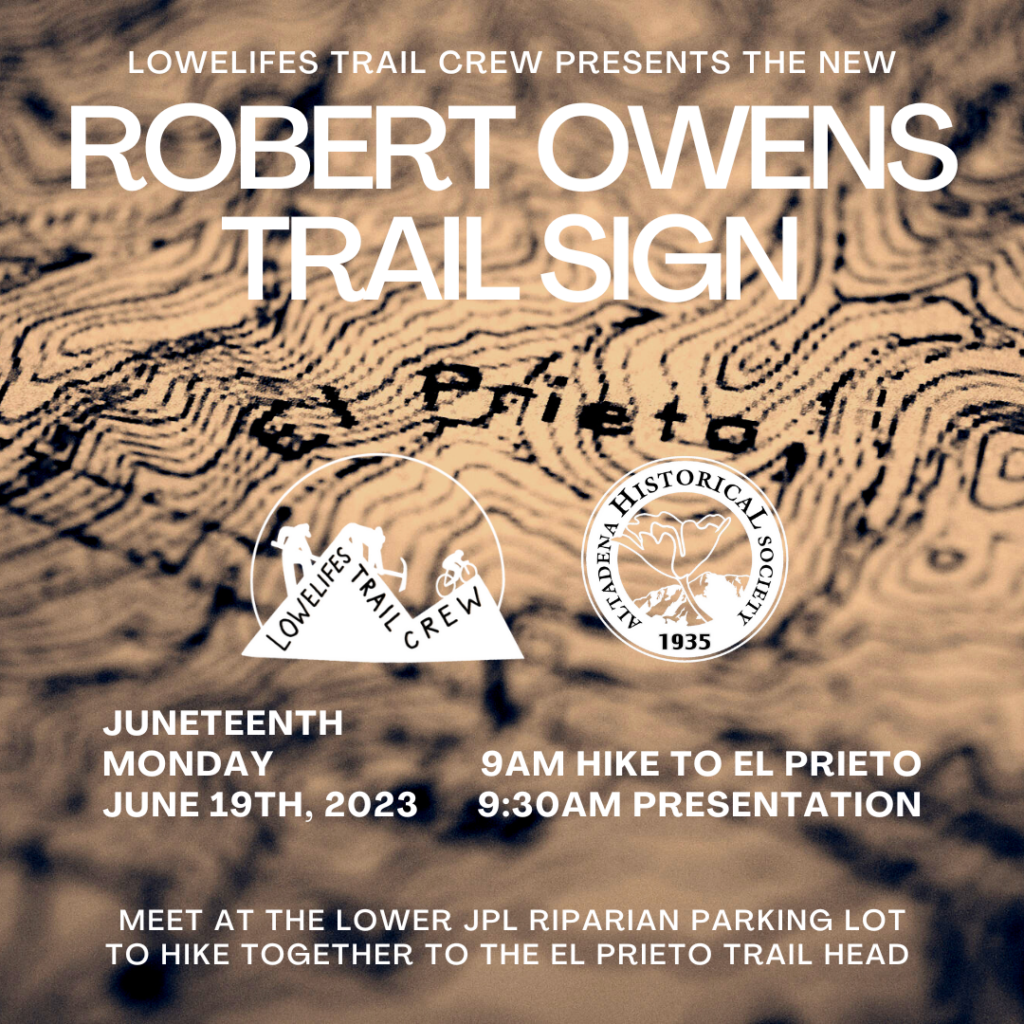 Robert Owens Sign to be Unveiled on Juneteenth
FOR IMMEDIATE RELEASE
In celebration of Juneteenth, Lowelifes Respectable Citizens Club volunteers will unveil the new Robert Owens historical sign in El Prieto Canyon on Monday, June 19th, 2023. This educational sign will shed light on the largely unknown story of Robert Owens, a former enslaved person who became Los Angeles County's wealthiest African American during the 19th century.
At 9am on June 19th, participants will be guided to hike ~1 mile from the JPL Riparian Zone Parking Area to the lower entrance of El Prieto Trail. A 30-minute presentation on Robert Owen's story and the history of the sign project will begin on-site at 9:30am.
Participants are recommended to wear sturdy shoes and carry a water bottle. The El Prieto Canyon area is not easily accessible to those with limited mobility.
According to Erik Hillard, Lowelifes Respectable Citizens Club:
"Unveiling the Robert Owens sign creates a permanent reminder of the hidden history within El Prieto Canyon. A new era acknowledges early African American settlers in our forest."
According to Veronica Jones, Altadena Historical Society:
"Acknowledging the history of El Prieto Canyon helps our community to be stronger and brings us closer. We experience and learn about the history that guides us each day. "
Lowelifes Respectable Citizens Club acknowledges El Prieto Canyon is the home and traditional land belonging to the Gabrielino Tongva Nation.
For more information about the Robert Owens Project by Lowelifes Respectable Citizens Club, please visit: https://www.lowelifesrcc.org/robert-owens-el-prieto/