Condor Peak Trail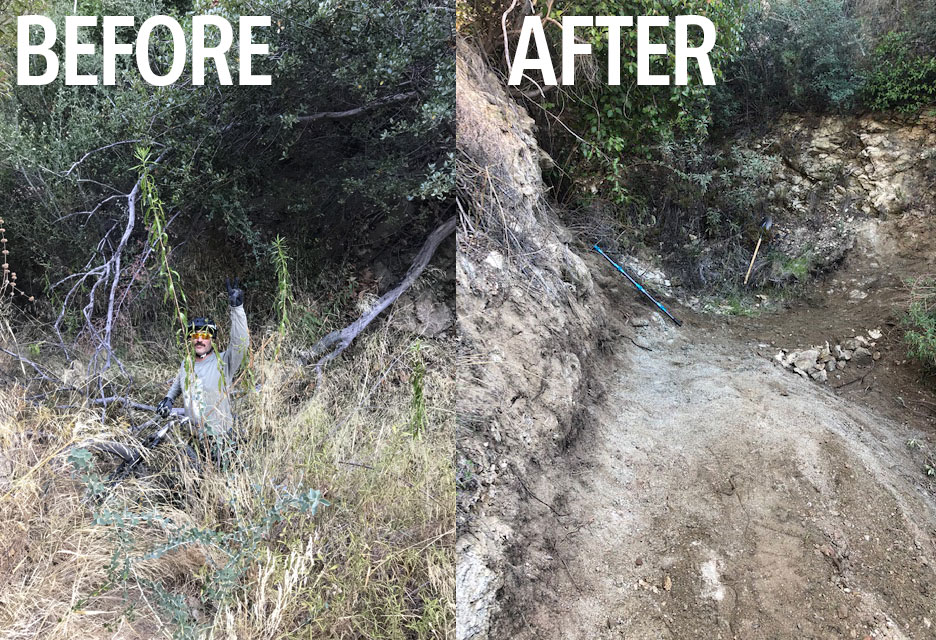 Condor Peak Trail Restoration: Trail Work #3
Hoping the snow had melted with the warmer weather, on Sunday Matt Baffert scouted 3N17 Mt. Gleason Rd to Lightning Point Campground for the Lowelifes' upcoming February 2nd work on the Condor Peak Trail.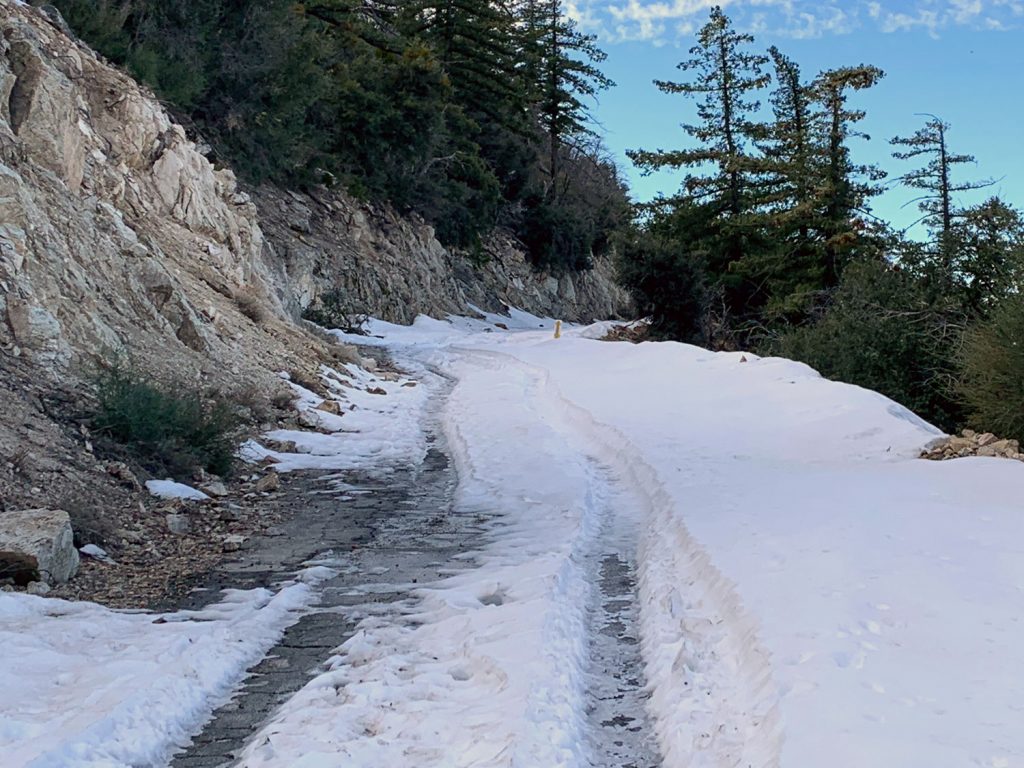 Volunteers will work the lower trail portion from the Big Tujunga Canyon Rd. trailhead until the snow clears from the upper roads.
On January 30th, Carson Blaker, Rob Pettersen, & Matt Baffert cleared brush along the bottom 2.5 miles trail. The prep work focused on opening up the trail corridor. LRCC Condor Peak Trail Restoration: Trail Work #3 plans included heavy trail bed restoration.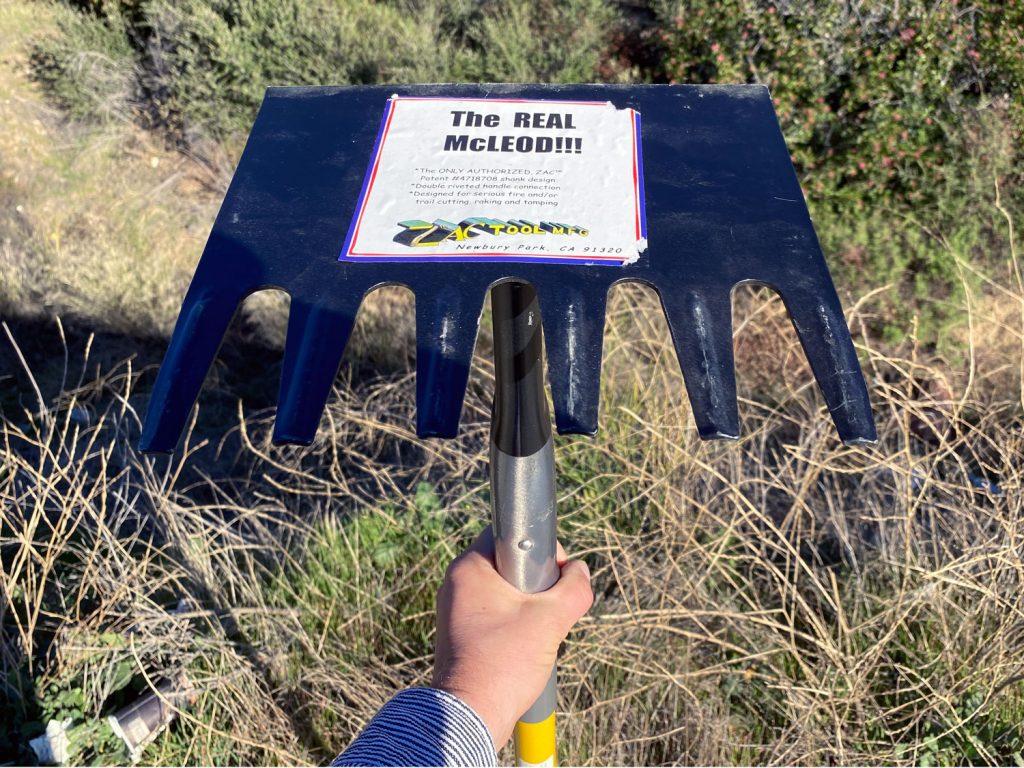 22 LRCC volunteers and 1 USFS staff member worked the bottom 2.4 miles of Condor Peak Trail. Volunteers completed 11 tread repair projects and lots of additional brushing.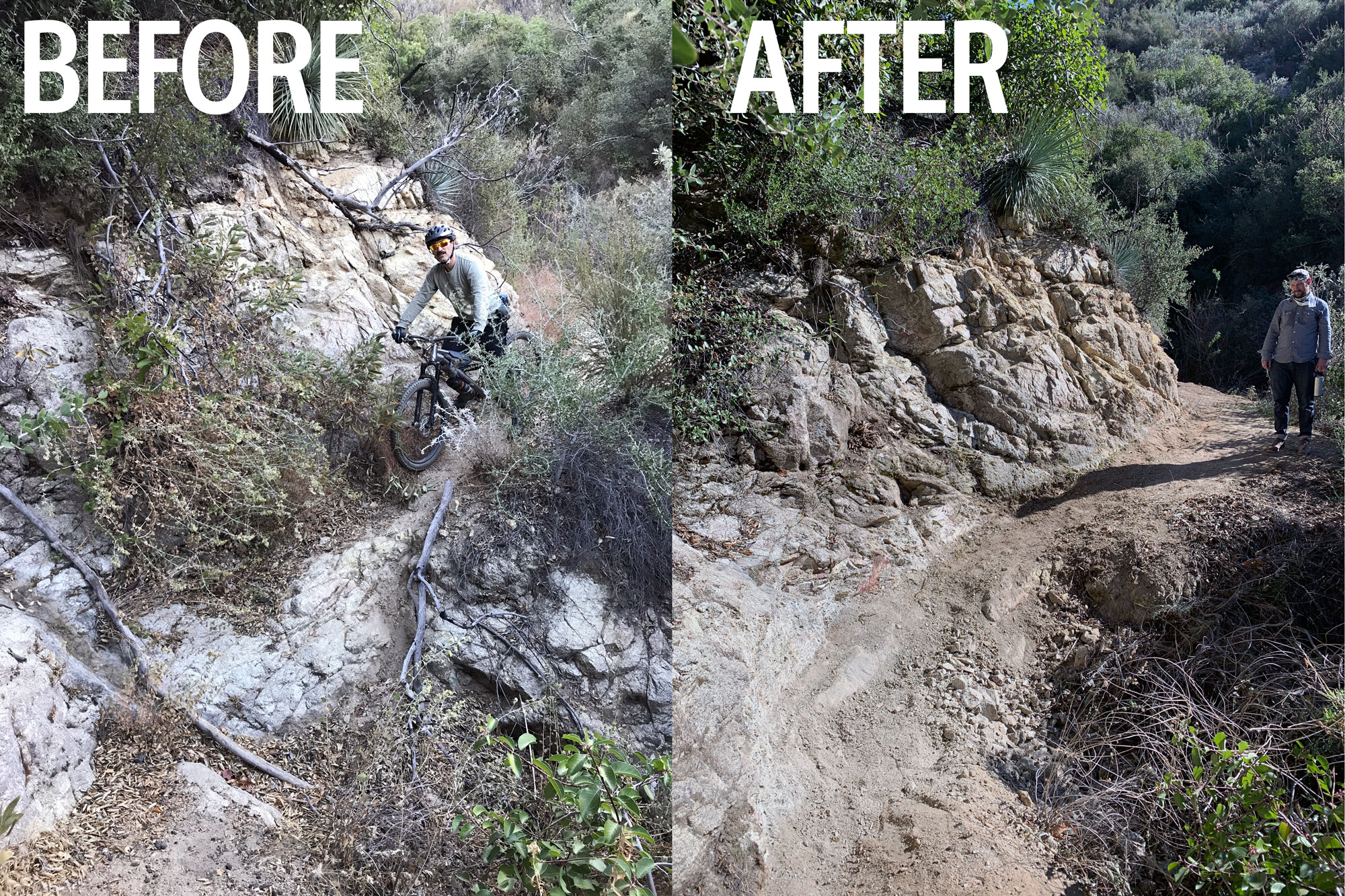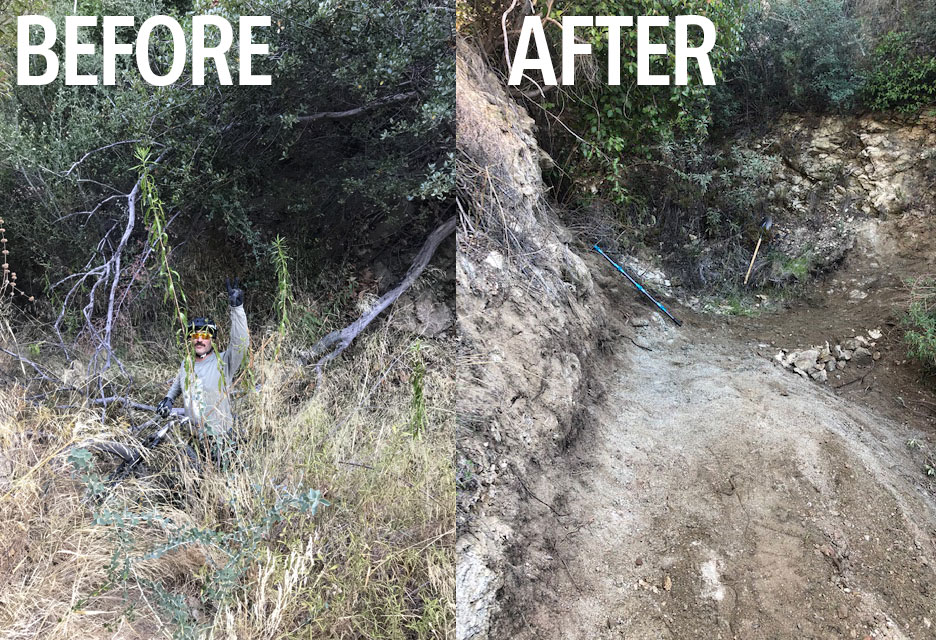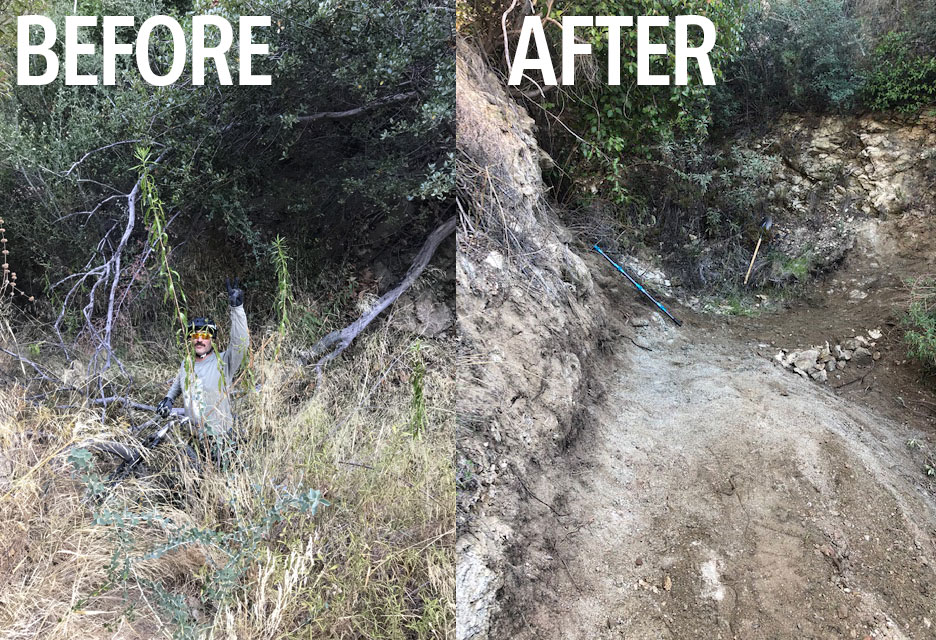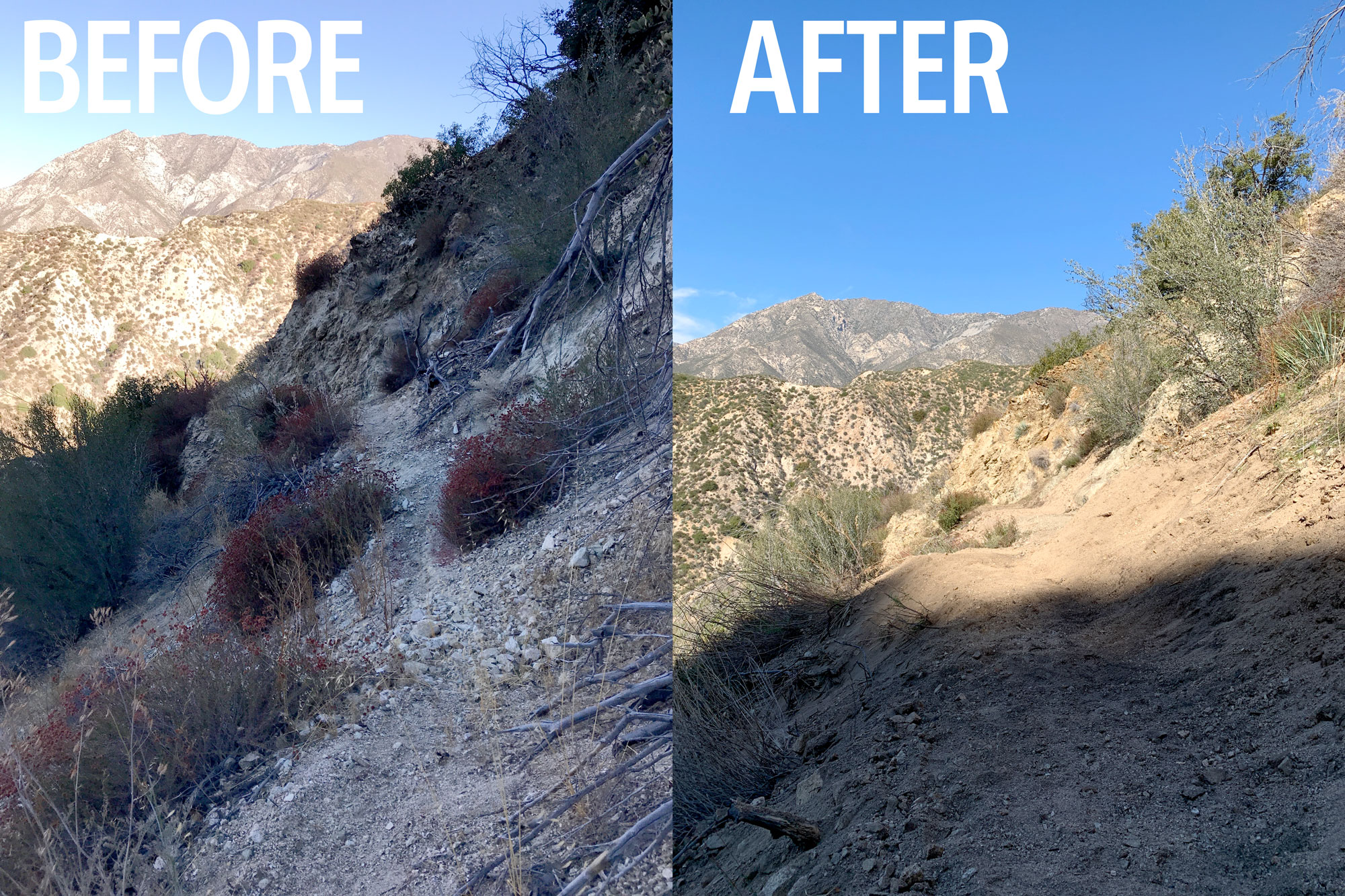 Trail Work #3 added 117 volunteer hours to the Condor Peak Trail Restoration, bringing the total LRCC hours to 653. Some projects were difficult and some were less complicated. The simpler projects consisted of new bench cuts in soft dirt where the slope above the trail bed had failed. Volunteers also cleared huge slides in steep, rocky terrain and unearthed evidence of previous wildfire.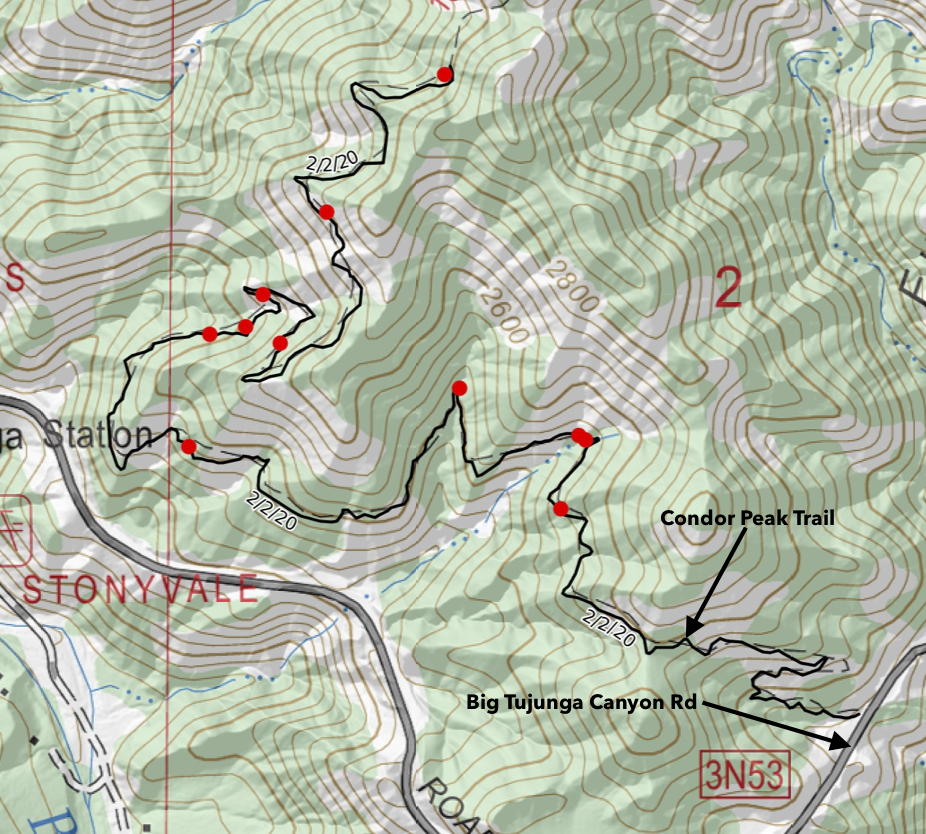 With the help of our new tools from Rogue, volunteers made quick of many repairs.
Hans of Bellfree Contractors introduced us to these newer tools while we were building new trails at the Mt. Waterman Ski Lifts. It is amazing how efficient these tools are at moving and shaping dirt. All of these Rogue tools are great at grubbing chaparral roots growing in the trail bed.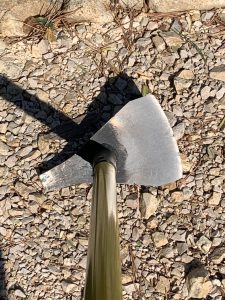 The 55A Hoe/Pick is light, sharp, and strong. It has a small pick on the opposite side of the business end of the tool.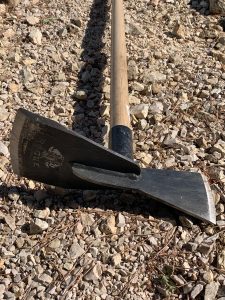 "The Beast" 55HX is an amazing Pulaski-style trailbuilding tool that renders its predecessor useless. A traditional Pulaski has a 36" inch handle that requires you to really hunch over. The 55HX comes with a 48" or 54" handle.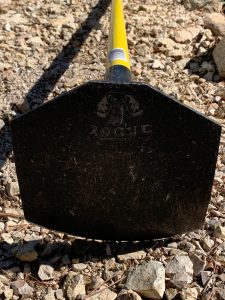 "The Rhino" 80R is powerful at moving large amounts of dirt. Completely smooth on the backside of the tool, the 80R's supple head does a beautiful job at tamping as well. Rogue ships very sharp tools from their factory and their edges should be maintained regularly. We highly recommend contacting Mary at Rogue and getting your hands on these fantastic tools.
Just after 14:00, all volunteers returned to the trailhead. Ellen Kenney greeted everyone with a delicious homemade fruit salad and "pita bread bar". Aimee Gilchrist of the Los Angeles Explorers Club donated fantastic beverages.
Cheers to our volunteers for another successful Lowelifes trail work day!