Condor Peak Trail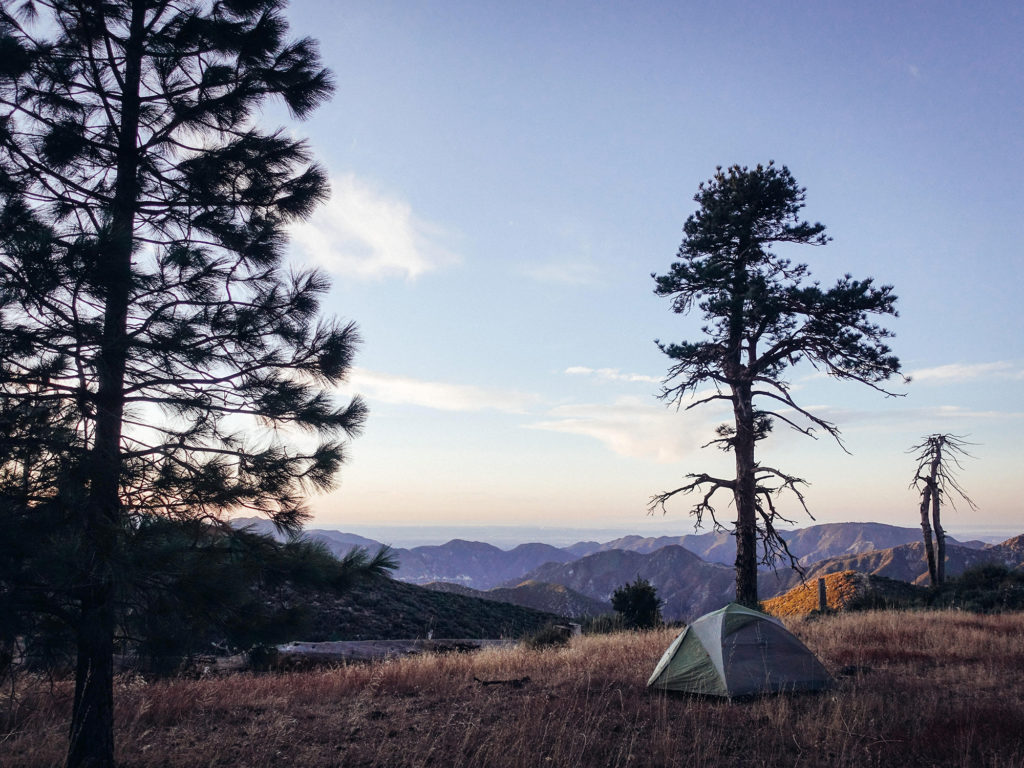 Lowelifes Stewardship Campout
What to expect at a Lowelifes trail stewardship campout at Lightning Point?
First and foremost, the campground has been closed since the 2009 Station Fire. It is going to be remodeled soon but for now there is no functional infrastructure. This is dry camping with no toilet so LEAVE NO TRACE and PACK IT IN PACK IT OUT principles will be of the utmost importance. If the campout is during high fire danger season, you can plan on no campfires.
It is just like weekend car camping at your favorite Forest Service undeveloped camp area. That means we have the ability to drive to the campground and set up tents or sleep in cars. The campground is dry (NO WATER). Lowelifes will have lots of water available but we encourage you to come prepared as well.
The campground is approximately 45 miles from downtown Los Angeles. It can be reached three different ways, but all roads lead to Mill Creek Summit in the Angeles National Forest where forest route 3N17 crosses the Angeles Forest Highway. This is where we will meet before we caravan up to the campground. Remember that there is generally no cell service at Mill Creek Summit so make your trip plans ahead of time. Routes include two different ways from the south via Angeles Crest Highway to Angeles Forest Highway or from Sunland you can take Big Tujunga Canyon Road to Angeles Forest Highway. The third option is taking the 14 Freeway and coming up the other side of Angeles Forest Highway. Detailed maps and directions will be provided prior to the event for the attendees.
What do you need to bring?
A full tank of gas, food, water, eating utensils, sleeping setup, warm clothes, headlamp, chair, trail work appropriate clothes (pants, long sleeves, boots), hard hat, gloves, safety glasses, backpack, shovel, toilet paper or wipes, trash bag for LEAVE NO TRACE / PACK IT IN PACK IT OUT, personal trail work tools if you own them and want to bring them, and a positive attitude.
Lowelifes will provide dinner on Saturday night and lunch on both days at the work site. There will be some hunger gaps to fill in so please bring plenty of food to properly enjoy the weekend. If you do not have a hard hat, gloves, or safety glasses, we can provide that for you.
Why Lightning Point? It seems so far away…
Lightning Point Campground is actually only 4 miles from the upper terminus of the Condor Peak Trail with about 1,100 feet of elevation difference. It also is easily accessible by car with forest route 3N17. The campground offers a great place to spike out for work along the upper stretches of the Condor Peak Trail.
Just above 6,000 feet of elevation, it offers respite from the summer heat. A small stand of old Jeffery pines survived the Station Fire which makes for a perfect setting with great views. The temperatures can be significantly colder and windier than the forecasted weather for Los Angeles. Plan for the worst, hope for the best.
Do you need a bike to join?
No. The event is not exclusively for bikes but we encourage folks to bring them. It is 4 miles downhill from the campground to the Condor Peak Trail. It is much faster to ride bikes to the work location than to drive the, at times rough, forest route 3N32. Also, we do not want to create a potential hazard by having too many vehicles on a road closed to the public. Lowelifes has access to the area and will use limited vehicles to carry supplies and volunteers who do not wish to ride bikes. Remember, if you're riding your bike in and out of the project site, you'll have to save energy to climb back up to Lightning Point after trail work. The approximate elevation difference is about 1,100 feet from the project area to the campground along relatively smooth dirt roads with mild gradients.
LEAVE NO TRACE
LEAVE NO TRACE principles are an important priority for Lowelifes. If you have attended one of our events in the past you would know this. We ask that all of you bring your own reusable food ware. Bring your own cup, bowl, plate, knife, spork, and whatever else you need to enjoy your food outdoors. Really take the time to plan ahead and think how you can reduce the use of non-reusable items. Lowelifes will not have paper plates, paper towels, plastic bags, plastic silverware, etc and we ask that you plan responsibly. We ask that whatever personal waste you accumulate over the weekend that you PACK IT IN and PACK IT OUT. Being good stewards of the land, Lowelifes strives to leave the site better than the way we found it. It is our duty to take into consideration all of our actions and how we can minimize our impact on the areas we visit. Respect the wildlife. Respect the plants.
RSVP
Tickets for the July 2021 campout are now sold out. There are waitlist spots available at the link below, and we will have more campouts in the future!